CPP Coupler Systems
CPP offers different types of coupling systems to fit a variety of site engineering requirements.
1. Soil Resistant Split Coupler – this is a Clam Shell type coupler used in Non-Water Tight applications. They are used on perforated or solid style CPP pipes at sites where the native soil is stiff and cohesive enough to reduce the possibility of a loose soil infiltration into the pipe that could create a flow restriction.

2. Silt Resistant Spilt Coupler – these are Clam Shell type couplers to which a gasket material has been added for the purpose of restricting Silt infiltration into the pipe at a coupling joint. This non-water tight gasket material meets ASTM-D-1056, Grade 2A2 or ASTM-F-477. The installer should take care to remove all dirt and foreign matter from the pipe ends and gasket material to insure a secure fit.

3. Gravity Flow – CPP offers several types of Gravity Flow couplers to impede or prevent the infiltration or exfiltration of liquids in Non-Pressure applications.

4. Bell & Spigot Couplers with "O" Ring Gaskets – These couplers are produced on the pipe during the pipe extrusion process. Bell & Spigot pipes are available in 20-foot lengths. Each coupler Spigot End comes with a non-pressure pipe water leak restriction gasket manufactured per ASTM-D-477. Should gravity flow pressure tests be required per ASTM-F-1417, one should not test until the pipes have been backfilled or restrained for safety.

As with concrete, metal and clay pipes or Catch Basin/Manhole structure joint connection work, the pipe installer must take extra installation precautions as all coupling sites have historically been a Sinkhole formation problem, no matter the pipes raw material base. At any coupling junction Extra Installer careshould be taken to insure that the uniform 95% Proctor Density compacted soil support is available totally around the pipe's joint per plastic pipe installation specifications ASTM-D-2321 and PPI-CPPA-100.

For Bell & Spigot couplers, the correct 95% Proctor Density soil compaction prevents deflection stress on CPP pipe from exceeding 5%. Proper compaction thus protects couplers from an over deflection induced pipe misalignment on the coupler "O" Ring seal as well. The bedding under the pipe should also reach a 95% Proctor Density compacted level to prevent reverse grades that could bend the pipe at the joint. Any reverse grades or poorly compacted side fill related misalignment that results in bending/snaking/pinching the pipe joint beyond 1.5 degrees will prevent a secure seal. Such can take place in soils that experience post installation, uncontrolled moisture levels.

If CPP pipes are installed in soils that are expected to experience any movement from a future high water table or soil-moisture ratio change, a Gravel Pack Loadbearing Envelope, encased in a Filter Wrap, should be used. Soils not reinforced properly to withstand soil-moisture changes, can increase a pipes deflection to the point of jeopardizing a joint leak resistant gasket seal. This is particularly true in non-cohesive silts, Class IV and Class V soils. It should be noted here that the flexibility of CPP pipes is an attribute that accommodates minor post installation soil settling and shifting, and thus prevents many catastrophic joint misalignments often experienced by more rigid pipe systems. The 20-foot sections of CPP pipes also reduce joint failure opportunities, because there are fewer joints. However, in Class IV, V or fluxing Water-Table soils, soil reinforcement practices (as noted in ASTM-D-2321) must be selected to assure performance as would be the installation practice with rigid pipe products. Under these site conditions, a CPP Mastic Wrap Coupler should be specified by the engineer to avoid leakage and future possible Sinkhole formations.

When using the CPP Bell & Spigot Gasket coupler system, both the "O" Ring and the Bell Coupler ends must be lubricated with a Non-Petroleum, Biodegradable pipe joint lubricant. First the Protective Wrap should be removed from the Gasket. Both the Male Spigot and the Female Bell ends should be cleaned prior to lubrication to insure a secure seal. As corrugations can drag loose trench soil in the coupling joint area, a clean plastic sheet of film should be placed under the coupling joint work zone. The Bell End should cover two full pipe corrugations on the Spigot End when fully seated.
5. CPP Shear Gasket Gravity Flow Seal Couplers – These pliable couplers with stainless steel Clamp-Grip Compression bands have been used for years connecting clay, concrete, steel and plastic pipes in all types of environments. They are impervious to normal sewer gases, chemicals, fungus growth and all other associated in- ground hazards. Although, not technically correct, many CPP customers refer to this coupler as the radiator-hose style coupler because of the compression grip that the stainless steel bands provide. As with any coupler, before applying, insure that no foreign matter jeopardizes contact between the two surfaces. These couplers impede leakage on 10" and smaller pipes. Minor leaks maybe experienced on full flow surges. For larger size pipes the CPP Mastic Wrap coupler is recommended.


6. Mastic Wrap Coupler – This coupler offers non-pressure, water leak resistant pipe connections for gravity flow sewers and storm culvert CPP pipe systems. Geotechnical Engineers should consider the use of these couplers in Class IV and V soil types as a precautionary measure against some future sink hole formation possibility due to soil-water migration. They are also required for continuous water flow.

CPP wrap around style mastic couplers have an outer layer of cross-laminated polyethylene plastic and an under layer adhesive surface of rubberized mastic material. In between these two surface layers is a high strength shear and puncture resistant layer of woven polypropylene. This center third layer provides toughness against puncture as well as stretch resistance under earth load shifts of settlements.

Mastic wrap couplers from CPP are mechanically sealed by stainless steel screw type hose clamp compression bands. These adjustable compression clamp bands are easily secured using simple tools such as screwdrivers, nut drivers, or socket wrenches. Proper tension on these bands will provide a seal against infiltration and exfiltration in gravity flow, non-pressure pipes. Hose clamp compression seals are used on sizes twelve inch and larger while metal twist style compression ties are used on four inch through ten inch size pipes (see photo w/twist ties below).

Each mastic coupler comes with three hose clamp compression bands or ties located within the coupler. There is one compression strap located in the butt joint corrugation pipe valley, and one strap in the first valley on each side of the butt joint. Proper compression tension on each strap (centered over a corrugation valley) will forcibly apply the mastic surface around the corrugation crests and walls to provide a seal. Enough tension should be applied to substantially sink the compression straps into the corrugation valleys below the corrugation crests in order to have a leak resistant seal. Prior to applying the mastic side to the pipe be sure to clean the pipe of soil/dust particles that could interfere with the mastic seal making contact with the pipe surface. CPP mastic couplers can also be used to couple corrugated pipes manufactured with different corrugation designs of the same pipe size as well as to couple CPP pipes to other pipes made from a different raw material base.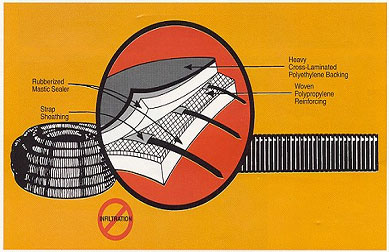 How To Apply the CPP Mastic Wrap Coupler